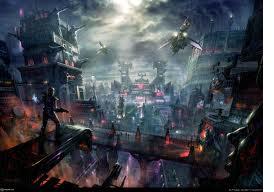 The vision of the future is sad. It goes like this;In the 22nd century, the AETA and PETA failed. The AETA had 1 whale in it and a few tigers. The rest of the animals IN THE WORLD were extinct. Because of the greedy humans that must have there meat, they are poluting more and more. The Green house gases destroyed the atmosphere (Mainly the OZone [O3]). The polution destroyed God's food for us. No tree's no bushes NO GRASS, no nature. The left over animals are starving to death, and the humans are surviving on algea. Also you need to pedal cars because of no resorces.
YOU CAN STOP THIS! DON'T EAT MEAT OR YOUR CHILDREN MIGHT DIE! It is just in a hundred years. Don't let everyone suffer. To prevent this PLEASE tell everyone about this! THIS IS HOW YOU can change the world!!!!
HELP US!
Ad blocker interference detected!
Wikia is a free-to-use site that makes money from advertising. We have a modified experience for viewers using ad blockers

Wikia is not accessible if you've made further modifications. Remove the custom ad blocker rule(s) and the page will load as expected.