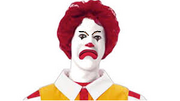 Ronald McDonald is an original enemy to the AETA. We still have not been able to capture and defeat him, but we are working to that. He is one of our Prime Enemies. 
He is the mascott for the big cheese company, McDonald's. As you might know, they are accused of the terrible slaughter of Chickens, Pigs, and Bovines with a very inhumane way of murder.
Ad blocker interference detected!
Wikia is a free-to-use site that makes money from advertising. We have a modified experience for viewers using ad blockers

Wikia is not accessible if you've made further modifications. Remove the custom ad blocker rule(s) and the page will load as expected.